March 1 marks the meteorological start of spring in the northern hemisphere. While people in countries like Germany, Austria, Switzerland or the northern United States are still freezing their asses off at this time, people in countries further south like Spain, Italy or Greece are already enjoying the sun and temperatures around 20 degrees Celsius. Whether it's 20 or two degrees, springtime means getting ready for the outdoor grow season. And even if in some places it is still too early to plant your plants or even germinate seeds, you should start preparing yourself and get everything you need for a successful outdoor grow.
Indispensable: seeds and jiffys
Without seeds there are no plants, so you should think about what kind of seeds you need. In any case, to germinate the seeds properly, you should get yourself
Jiffy 7 peat swell pots
. They contain all the essential nutrients for the first days of the seedling and are also sterilized, so they do not carry harmful germs that could attack the seed or seedling. They are easy to use, making them suitable for beginners and professionals alike.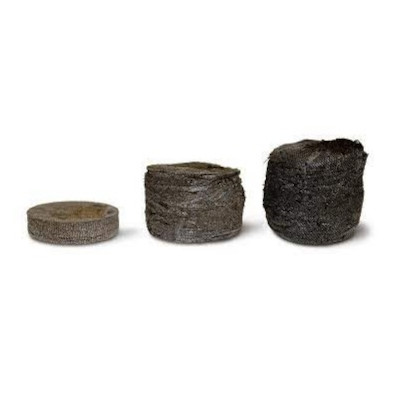 Large selection - which variety is well suited for outdoor cultivation?
The question of which variety and which type of seed you want to grow depends on various factors, such as the specific location, the region and your personal preference, to name just a few. In regions with long summers, you can grow virtually any strain outdoors. No matter what strain, it will be finished flowering by late fall at the latest. However, this is of little use to outdoor growers in northern regions such as Central or Northern Europe, who need to be able to harvest by the end of September at the latest, before it gets too wet and too cold and the plant may still have immature and underdeveloped buds that are neither resinous nor particularly tasty or potent. Fortunately, there are plenty of outdoor strains that are suitable for any climate.
Autoflowering strains work anytime, anywhere
Autoflowering, autoflowering or "auto strains" just work anywhere. Whether in northern Germany, southernmost Spain, Scandinavia or the equator. The reason is the reduced life cycle of these varieties. Once germinated, they follow their internal clock and, depending on the variety, are ready for harvesting no later than three months after germination. For outdoor cultivation, this has the unbeatable advantage that these strains also thrive in short summers as well as in long summers, you just have to wait for the right time of sowing. Normally in the northern hemisphere this is in May to June, then the plants have enough time to develop well and are already ready for harvest at the end of July or mid-August. The small disadvantage of autoflowering varieties grown outdoors is that they have a lower yield than light-dependent varieties. They also remain much smaller than their sisters, which again does not have to be a disadvantage. There are a variety of auto strains, there is practically something for everyone. No matter if Indica, Sativa, much or little THC, high yield, low yield, expensive or cheap. You will find 500 autoflowering strains on our site from many different breeders like
Sweet Seeds
,
Sensi Seeds
or
High Speed Buds
. If you feel overwhelmed we recommend our own
Auto Strains
which are very good and cheap, especially our
Auto Do Si Dos
or
Auto Gorilla Glue
have proven themselves, but also classics like
Auto White Widow
and
Auto Afghan Skunk
are really good and reliable strains.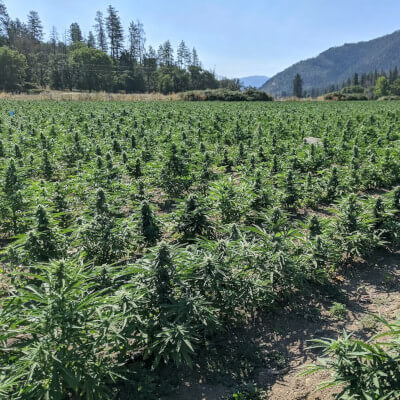 Especially fast flowering strains, Fast Flowering, Fast Version or Early Harvest
A relatively recent development in cannabis seed breeding are extra fast flowering strains. They are often labeled "Fast Flowering", "Fast Version" or "Early Harvest" and differ from other strains by their reduced flowering time. However, they are not auto-flowering varieties, but are light-dependent and require a reduction in light hours to begin flowering. They are bred either by deliberate selection of plants of a particular variety that stand out by a short flowering, or recessive autoflowering genes are crossed into the plants, which ensure that they have a stronger flowering impulse and are flowered earlier. For outdoor grows, this means that these strains finish flowering by mid to late September at the latest, making them perfect for getting good outdoor harvests in countries like Germany or even further north. The development of "fast flowering" strains has greatly expanded the spectrum of strains that can be grown outdoors in cooler regions. One of the most popular strains last year was
Tropicanna Position F1 Fast Version
from
Sweet Seeds
. But also other manufacturers have now some particularly fast varieties in the offer.
World of Seeds
with
Amnesia Early Harvest
or
Fast Buds
with
Purple Lemonade Fast Flowering
, to name just two. Fast strains hardly differ from "normal" strains, except that they flower faster and have a stronger flowering impulse. In addition, they usually don't grow quite as tall, reaching around 2 meters at most outdoors. They therefore yield a bit less than their not-so-fast-flowering sisters. However, this won't matter much when growing outdoors.
Outdoor classics
Besides the autoflowering and fast flowering varieties, there are a lot of outdoor classics. These are strains that partly date back to the early 1990s and have been grown millions of times. These strains were developed almost exclusively in the Netherlands, at a time when it was still legal to grow cannabis for seed production there. However, these are not relics from the gray past, but truly proven strains that have been bred to be reliably grown outdoors in cooler climates like the Netherlands, Germany and Denmark. They come from seed banks like
Dutch Passion
,
Sensi Seeds
,
Serious Seeds
or
KC Brains
. True bedrock of the cannabis scene, but their genetics reliably deliver good yields and quality to this day. Among these classics are strains like
Hollands Hope
, a wonderful Indica variety that delivers compact resinous flowers at the end of September. Or
KC 33
, behind whose cryptic name lies a 100% outdoor hybrid yield bomb. Or
Early Skunk
, a particularly fast flowering
Skunk#1
variety. Or
Biddy Early
, a very early flowering, sativa dominant variety with a balanced high suitable for everyday use. Other varieties of this type are
Easy Sativa
or
Durban
, both fast flowering sativas,
Early Top Skunk
, a cheap Early Skunk variant,
Afghan Kush
, a 100% indica, as well as
Maroc
, an indica from the Moroccan Rif mountains or
Purple#1
, an Afghani cross. All these varieties can be harvested by the end of September at the latest, have been in demand for years and reliably deliver very good results. Both in terms of quality and quantity, these outdoor classics are an excellent choice and thrive splendidly practically anytime and anywhere.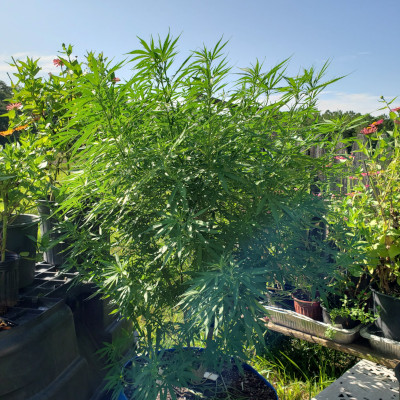 Growing, but where?
In addition to the flowering period of the plants, which must match the region where you want to grow, the specific location is of course enormously important. If you have a large, sunny garden that is out of sight and no one bothers with your cultivation, you have free choice. Any type of seed and variety will work for you. It is similar with a guerrilla grow in the wild. It is different if you want to grow on your terrace or balcony. Here, more discretion may be required. In principle, you can also grow all varieties here. However, you should take into account that outdoor classics grow larger and more sprawling than fast varieties or autoflowering varieties. This means that you have to prune and care for them so that they do not grow too large. It's a similar story with fast varieties. For discrete growing, autoflowering strains are best because they don't grow as tall due to their limited lifespan, which is preferable in a "limited" setting. Whatever you decide, all the presented seeds will perform flawlessly outdoors and will give you a lot of fun and pleasure in every way.
Plant a seed - get your Weed!
Seedfinder
With our Seedfinder the quest has come to an end. Here you can quickly and reliably find the right marijuana seeds for your needs. From thousands of strains you are guaranteed to find the perfect cannabis seed with the right and relevant characteristics for you.
CANNABISER BREEDER SUMMARY
Our overview leads you quickly and purposefully to your preferred cannabis seed grower. Then click the logo and you will be taken to the overview of the cannabis seeds on offer.
All cannabis seeds breeders
Linda Seeds
For more than a decade, Linda-Seeds has strived to offer you the best marijuana seeds. And this both in terms of the selection as well as the quality and freshness of our cannabis seeds. Not only do we want to present you the whole range of new breeds, and offer you the most successful classics of the most popular weed varieties, but we also want to make sure that ideally 100% of the marijuana seeds we offer germinate successfully!
Your success is our mission
Your harvest success is our motivation, because we know about the concerns and possible negative experiences you might have from our own practice as a grower. It has always been and remains our goal to be the best source of supply for you for successful cannabis cultivation. Quality, price, advice as well as fast, anonymous and discrete delivery are the parameters we are constantly striving to optimize for you.
Buy cannabis seeds at Linda-Seeds - your trust pays off for you
With your support, we have earned great trust from our customers as well as from our suppliers and can now rely on the very good cooperation with well over 80 of the most popular cannabis seed breeders worldwide. Thanks to the good relations we have the opportunity to achieve very competitive prices, which we pass on directly to you. With Linda-Seeds you should not only have fun with the cultivation of the plants and the harvest, but also gain a monetary advantage when you buy cannabis seeds from us!
Selection of cannabis strains
In our well-assorted range of over 2,500 cannabis seed varieties, you will find regular and feminised cannabis seeds as well as modern self-flowering varieties (autoflowering) for outdoor or indoor cultivation.
If you order regular seeds, you will usually get about 50% male and 50% female plants, which corresponds to the natural genetics of the plants.
Female cannabis seeds are special cannabis seed varieties that do not contain male chromosomes, which led to the great success of feminised cannabis seeds, as the THC content of female flowers is many times higher.
Autoflowering cannabis seeds, i.e. self-flowering varieties, are especially exciting for less experienced growers. They are easy to handle thanks to the Ruderalis factor. Autoflowering cannabis seeds flower independently of light and temperature fluctuations and follow a fixed time interval. If you want to buy cannabis seeds that forgive your own mistakes, then you are well served with self-flowering plants. Although their yield is less high, you get a plant that is more resistant to cold, infections and pests.
Cannabis seed type
Cannabis plants can basically be divided into 2 genera. These are described as Cannabis Indica and Cannabis Sativa. For the sake of completeness, it should be mentioned that there is also the Cannabis Ruderalis, although it is still disputed among botanists whether this is really an independent subspecies of the genus cannabis.
Indica-Cannabis seed
The real origins of Sativa and Indica are still not clearly defined. The common theory is that Indicas come from higher altitudes where the air is thin and water sparse. This is why their characteristics can be described as short and stocky, with shorter and thicker leaves that store water better. Afghanistan, India, Pakistan and Turkey are typical areas of origin. The plants have adapted to the often harsh, dry and turbulent climate of the Hindu Kush mountains. Indicas are typically associated with whole body effects, such as increasing deep relaxation and reducing insomnia.
Sativa-Cannabis Seed
The original home of the Sativa seems to have been lush and humid forests. The humid climates have shaped the evolution of the Sativa with correspondingly thinner, long stems and longer, narrow leaves, allowing for better breathing and oxygen uptake in such regions. These include Africa, Central America, South East Asia and the western parts of Asia. Sativas are known for their "head-high", invigorating and energizing effects that can help reduce anxiety or stress and increase creativity and concentration.
Hybrid-Cannabis Seed
Every year, marijuana growers produce new and unique strains from different combinations of parent plants. These cannabis hybrids are often grown to achieve specific effects. They try to cross desired positive characteristics of Sativa and Indica parent plants and combine them in a new cannabis strain.
Of course you can buy all three genera at Linda-Seeds, far more than 2000 different varieties are available. By using our selection search mask, you can buy cannabis seeds specifically and identify the seeds that best match both your preferred growing conditions and your desired effect.
Medical cannabis seeds containing CBD
Medical cannabis seeds are also described as CBD cannabis seed varieties. Cannabidiol (CBD) is a substance extracted from the cannabis or marijuana plant. As more and more people want to try CBD in order to test whether their complaints such as pain, insomnia or depressive moods can be alleviated with cannabidiol, CBD cannabis seeds are gaining in popularity. Medical cannabis seeds have thus become increasingly important in recent years. Many customers are less concerned about high THC values when they buy cannabis seeds, but health aspects play more and more a central role.
Cannabidiol (CBD) - positive effects on health
Research in cannabis medicine is still in its infancy. The positive properties of Cannabidiol (CBD) are currently being investigated for use in chronic pain, cramps, migraine, arthritis and inflammation of all kinds, in epilepsy and for killing malignant tumour cells. In countries such as Switzerland, the United States or Israel, CBD is now successfully used for many diseases. The active ingredient is known for its calming, pain-relieving and anti-inflammatory effects and more and more people are also seeing the positive aspects of these medicinal cannabis seeds.
Medical seed producers
Quite a number of producers and breeders have meanwhile bred a large variety of corresponding seeds. Breeders like Dinafem, The Cali Connection, Serious Seeds, Sensi Seeds or Dutch Passion already offer such medicinal cannabis seeds. Breeders such as CBD Crew or Medical Marijuana Genetics are even focusing on these cannabis strains, as it has been recognized that CBD also has a positive influence on the effects of THC. Currently there are more than 150 CBD strains available at Linda-Seeds, so you are spoilt for choice when you buy marijuana seeds with CBD genetics from us.