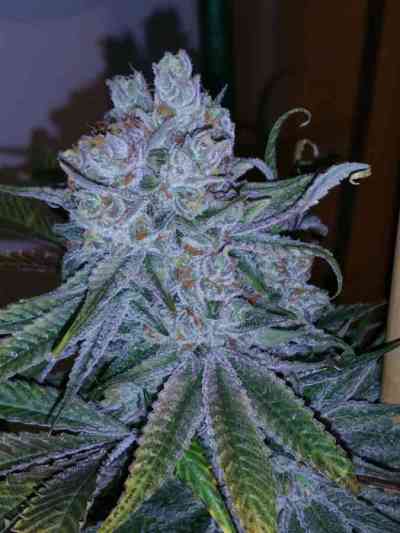 Discrete Shipping
Shipping next working day
Quality safety
Go Time
Regular Marijuana Seeds | Sativa | THC 15-20% | High yield
5/5 (10)
Produktdetails
Flowering Time
8 - 10 weeks
Height
medium
Indica/Sativa
mostly sativa
Seed Type
Yield
large
Growth Area
THC Level
15 - 20 %
Kush Strains
yes
Purple Strains
yes
Genetics
Norton x JOG Kush
Item currently not available.
Go Time | TGA Subcool Seeds
Go Time from TGA Subcool is a hybrid between Jesus OG Kush - a splendid Kush from TGA's catalog - and Norton, a crossing of Sour Diesel and Cheese. Go Time presents two main phenotypes: the purple one, with large buds and strong fruity/cheese scent, and the green one, with a more considerable stretch and flavour closer to the Sour Diesel. Both phenotypes produce incredible amounts of resin. Subcool recommends pruning the tops of the plants and use SCROG techniques to help the branches to support the weight of the buds. TGA's Go Time is easy to grow, with excellent calyx-leaf ratio and very nice yields. As we mentioned, the buds are perfect for cannabis extractions. Go Time's flavour is intense and complex, ranging fromcitric/sour to cheese/fruity notes. We can also appreciate ripe fruits nuances on a Kush background, simply delicious. Being a mostly Sativa hybrid, Go Time induces a stimulant and uplifting effect on the user, euphoric and even aphrodisiac. It is ideal to enhance creativity and motivation, also to treat pain and anxiety.
---
Customers who bought this product also purchased
Customers who bought this product also purchased