Today, magic mushrooms have a large number of fans and followers around the world. This was not always the case. In the 16th century, for example, hallucinogenic mushrooms were still completely unknown in Europe. The situation was different in North and Central America. In present-day Mexico and Guatemala, indigenous societies such as the Aztecs or the Mayas consumed psilocybin mushrooms in rituals and religious ceremonies. The intention could be to read the future or to cure an illness. Different mushrooms were used for ceremonies, which could vary according to the indigenous group or the region in which they lived. Some of these mushrooms are hardly found today, others have become popular classics among mushroom lovers. The monk Fray Bernardino de Sahagún was the first to describe the use of psychoactive mushrooms in his 16th century notes. He called the mushrooms "Teonanácatl", which means flesh of the gods in the indigenous Nahuatl language. However, the existence of magic mushrooms continued to be disputed in the following centuries and the Spanish inquisitors, especially the Catholic Church, tried to suppress the consumption of the mind-expanding mushrooms, so references and traces in written documents and other sources also disappeared.
It was not until the early 20th century that scientists (especially ethnobotanists) began to take an interest in mushrooms and their effects. Jean Bassett Johnson was the first Western scientist to observe a mushroom ritual. Amateur botanist Gordon Wasson traveled to Mexico with his wife in 1940 to participate in a ritual and consume the mushrooms himself. Some time later, Wasson traveled to Mexico again, accompanied by French scientist Roger Heim. The latter brought a sample of the mushrooms back to Europe and left it with none other than Albert Hoffmann, the discoverer of LSD. It was Hoffmann who first extracted the psychoactive ingredient from the mushrooms and named it psilocybin.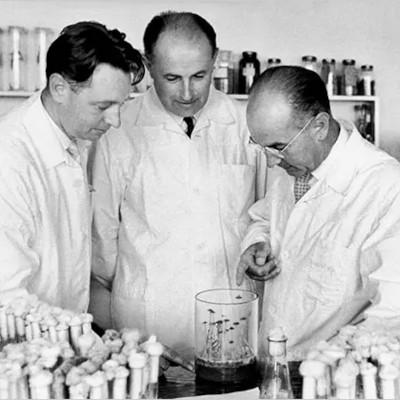 Great diversity
In Mexico alone there are about 50 different varieties of magic mushrooms. Among the best known are the Calva Mexicana, the
Mexicana
and the
Mexicana Mazapatec
. They all differ in optical details, but are nevertheless similar. Mushrooms grow in different regions and therefore have different conditions they need as a basis for life. Some grow on cow dung, others in shady wooded areas. However, they all need a rather humid environment in order to thrive. Since the seasons in Mexico can be divided mainly into dry and rainy, there is a season with good conditions for mushrooms and a season in which they cannot be found. The rainy season runs from May to October and creates good conditions for mushrooms to grow.
Ways of consumption
In Mexico, magic mushrooms are usually consumed fresh. However, as this is only possible in the right season, there are various techniques for preserving mushrooms.
One possibility is to freeze fresh mushrooms. In this way, they can be thawed again when needed, but then they must be consumed quickly. Another common preservation technique is to dry mushrooms. This makes them much lighter and, consequently, they contain more active ingredient compared to their weight. Finally, some mushrooms are also preserved in honey. If fresh mushrooms are completely covered with honey, they will keep for about two to three months before slowly losing their active ingredient.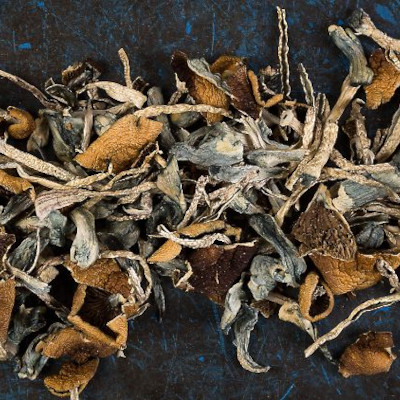 Mushroom regions of Mexico
Mexico is a huge country. The area of the national territory is about five times larger than that of Germany. However, the areas where hallucinogenic mushrooms grow are mainly limited to the states of Chiapas, Oaxaca, Puebla and the State of Mexico, all located in the southern third of the country. The north of the country tends to be too dry and the east, as well as the areas along the Gulf of Mexico, are quite hot and therefore do not offer ideal conditions for mushrooms to grow.
Current use
Today, mushrooms are still very popular. However, they are no longer only consumed in appropriate ceremonies, but also to expand consciousness and to have fun. There are some places in Mexico that have even established themselves as mushroom tourism destinations. One such example is San José el Pacífico, in the state of Oaxaca. In this picturesque mountain town, Mexican mushrooms can be found everywhere. Even the walls of many houses are decorated with murals depicting mushrooms.
Cultivation with mushroom cultivation box
Many of the legendary Mexican mushroom varieties can now also be cultivated at home with
special cultivation kits
. Cultivation is not complicated and does not require much equipment or space. Another advantage of cultivation is that the mushrooms hardly develop any odor, so cultivation does not pose a great risk. Kits can easily be ordered on the Internet, for example
here
on our site. All other important information for a successful start can be found on our
topic page
.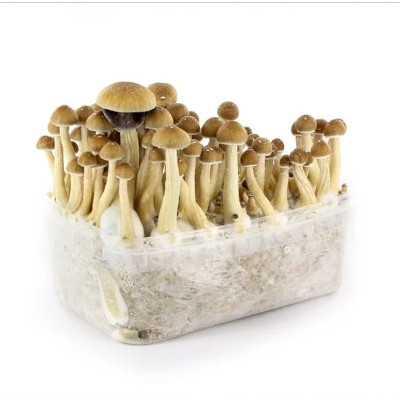 Seedfinder
With our Seedfinder the quest has come to an end. Here you can quickly and reliably find the right marijuana seeds for your needs. From thousands of strains you are guaranteed to find the perfect cannabis seed with the right and relevant characteristics for you.
ALL CANNABIS BREEDERS
Our overview leads you quickly and purposefully to your preferred cannabis seed breeder. Then click the logo and you will be taken to the overview of the cannabis seeds on offer.
All cannabis seeds breeders
Linda Seeds
For more than a decade, Linda-Seeds has strived to offer you the best marijuana seeds. And this both in terms of the selection as well as the quality and freshness of our cannabis seeds. Not only do we want to present you the whole range of new breeds, and offer you the most successful classics of the most popular weed varieties, but we also want to make sure that ideally 100% of the marijuana seeds we offer germinate successfully!
Your success is our mission
Your harvest success is our motivation, because we know about the concerns and possible negative experiences you might have from our own practice as a grower. It has always been and remains our goal to be the best source of supply for you for successful cannabis cultivation. Quality, price, advice as well as fast, anonymous and discrete delivery are the parameters we are constantly striving to optimize for you.
Buy cannabis seeds at Linda-Seeds - your trust pays off for you
With your support, we have earned great trust from our customers as well as from our suppliers and can now rely on the very good cooperation with well over 80 of the most popular cannabis seed breeders worldwide. Thanks to the good relations we have the opportunity to achieve very competitive prices, which we pass on directly to you. With Linda-Seeds you should not only have fun with the cultivation of the plants and the harvest, but also gain a monetary advantage when you buy cannabis seeds from us!
Selection of cannabis strains
In our well-assorted range of over 2,500 cannabis seed varieties, you will find regular and feminised cannabis seeds as well as modern self-flowering varieties (autoflowering) for outdoor or indoor cultivation.
If you order regular seeds, you will usually get about 50% male and 50% female plants, which corresponds to the natural genetics of the plants.
Female cannabis seeds are special cannabis seed varieties that do not contain male chromosomes, which led to the great success of feminised cannabis seeds, as the THC content of female flowers is many times higher.
Autoflowering cannabis seeds, i.e. self-flowering varieties, are especially exciting for less experienced growers. They are easy to handle thanks to the Ruderalis factor. Autoflowering cannabis seeds flower independently of light and temperature fluctuations and follow a fixed time interval. If you want to buy cannabis seeds that forgive your own mistakes, then you are well served with self-flowering plants. Although their yield is less high, you get a plant that is more resistant to cold, infections and pests.
Cannabis seed type
Cannabis plants can basically be divided into 2 genera. These are described as Cannabis Indica and Cannabis Sativa. For the sake of completeness, it should be mentioned that there is also the Cannabis Ruderalis, although it is still disputed among botanists whether this is really an independent subspecies of the genus cannabis.
Indica-Cannabis seed
The real origins of Sativa and Indica are still not clearly defined. The common theory is that Indicas come from higher altitudes where the air is thin and water sparse. This is why their characteristics can be described as short and stocky, with shorter and thicker leaves that store water better. Afghanistan, India, Pakistan and Turkey are typical areas of origin. The plants have adapted to the often harsh, dry and turbulent climate of the Hindu Kush mountains. Indicas are typically associated with whole body effects, such as increasing deep relaxation and reducing insomnia.
Sativa-Cannabis Seed
The original home of the Sativa seems to have been lush and humid forests. The humid climates have shaped the evolution of the Sativa with correspondingly thinner, long stems and longer, narrow leaves, allowing for better breathing and oxygen uptake in such regions. These include Africa, Central America, South East Asia and the western parts of Asia. Sativas are known for their "head-high", invigorating and energizing effects that can help reduce anxiety or stress and increase creativity and concentration.
Hybrid-Cannabis Seed
Every year, marijuana growers produce new and unique strains from different combinations of parent plants. These cannabis hybrids are often grown to achieve specific effects. They try to cross desired positive characteristics of Sativa and Indica parent plants and combine them in a new cannabis strain.
Of course you can buy all three genera at Linda-Seeds, far more than 2000 different varieties are available. By using our selection search mask, you can buy cannabis seeds specifically and identify the seeds that best match both your preferred growing conditions and your desired effect.
Medical cannabis seeds containing CBD
Medical cannabis seeds are also described as CBD cannabis seed varieties. Cannabidiol (CBD) is a substance extracted from the cannabis or marijuana plant. As more and more people want to try CBD in order to test whether their complaints such as pain, insomnia or depressive moods can be alleviated with cannabidiol, CBD cannabis seeds are gaining in popularity. Medical cannabis seeds have thus become increasingly important in recent years. Many customers are less concerned about high THC values when they buy cannabis seeds, but health aspects play more and more a central role.
Cannabidiol (CBD) - positive effects on health
Research in cannabis medicine is still in its infancy. The positive properties of Cannabidiol (CBD) are currently being investigated for use in chronic pain, cramps, migraine, arthritis and inflammation of all kinds, in epilepsy and for killing malignant tumour cells. In countries such as Switzerland, the United States or Israel, CBD is now successfully used for many diseases. The active ingredient is known for its calming, pain-relieving and anti-inflammatory effects and more and more people are also seeing the positive aspects of these medicinal cannabis seeds.
Medical seed producers
Quite a number of producers and breeders have meanwhile bred a large variety of corresponding seeds. Breeders like Dinafem, The Cali Connection, Serious Seeds, Sensi Seeds or Dutch Passion already offer such medicinal cannabis seeds. Breeders such as CBD Crew or Medical Marijuana Genetics are even focusing on these cannabis strains, as it has been recognized that CBD also has a positive influence on the effects of THC. Currently there are more than 150 CBD strains available at Linda-Seeds, so you are spoilt for choice when you buy marijuana seeds with CBD genetics from us.