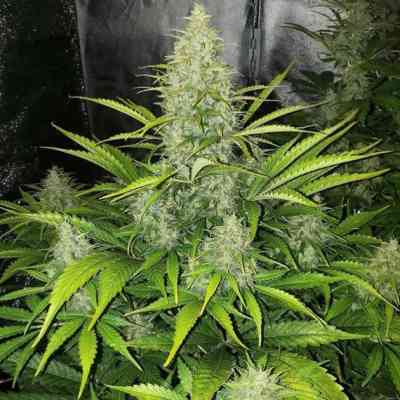 Discrete Shipping
Shipping next working day
Quality safety
Auto Reek'n
Autoflowering Marijuana Seeds | Hybrid | THC >20% | High yield
5/5 (4)
Produktdetails
Flowering Time
8 - 10 weeks
Height
medium
Indica/Sativa
indica/sativa
Seed Type
Yield
large
Growth Area
THC Level
over 20 %
Genetics
OG Reek'n x Ruderalis
Auto Reek'n | The Devil's Harvest Seed Company
Auto Reek'n by Devil's Harvest is a feminized autoflowering marijuana seed that comes from the well-known champion of this same bank that is OG Reek'n. We are facing the 'auto' version of a winning variety of numerous cups and whose essence has been faithfully transmitted to the automatic form. It is characterized for being a stable cannabis variety and that growers will love for its ease of cultivation. A phenotype with dominance Indica that it never fails, it can be grown indoors as well as outdoors and the results are always satisfactory.
Auto Reek'n is a marijuana plant of small stature that develops without problems as long as the cultivation conditions are appropriate (in extreme temperatures it does not work). It does not require special care and is ideal for those growers who do not have too much space.
Auto Reek'n preserves the intense aroma and pleasant taste of the OG combined with the power provided by THC levels that exceed 20%. The effect it produces is corporal, a strong Kush style buzz that we like so much but which should not be abused if we want to remain active during the day.
---
Customers who bought this product also purchased
Customers who bought this product also purchased